My real name: Tediyanto
My nick name: LORD
address: Ds.setiamekar no:43 RT.02/10 Jakarta - Indonesia
born: Jakarta, 7 november 1992
hobby: design logo, editing blog and website.

:(jempol):
:(jempol):
Spoiler:

Saya terlahir dari keluarga sederhana di pelosok pedalaman kota Bekasi-INDONESIA.....
Saya adalah Alumni dari SD setiamekar 01, Smp 06 bekasi, SmkN 1 bekasi....
dan saat ini saya kuliah di University BSI jatiwaringin.....
Pandangan saya terhadap dunia maya adalah suatu dunia yang indah apabila pengguna dari dunia maya ini membuat indah..... Dan pesan saya kepada seluruh orang tua yang ada di dunia, janganlah engkau larang anak-anakmu untuk berinteraksi dengan dunia maya, namun ajarkanlah pada mereka norma-norma positif yang dapat kita dapatkan di dunia maya ini...
I love Hacker and cracker... Becouse your the BEST..........
______________________________________________________________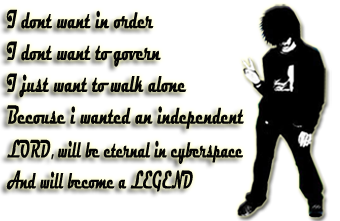 ---
Permissions in this forum:
You
cannot
reply to topics in this forum